GameStop Stock: How Will The New NFT Marketplace Impact Business Outlook?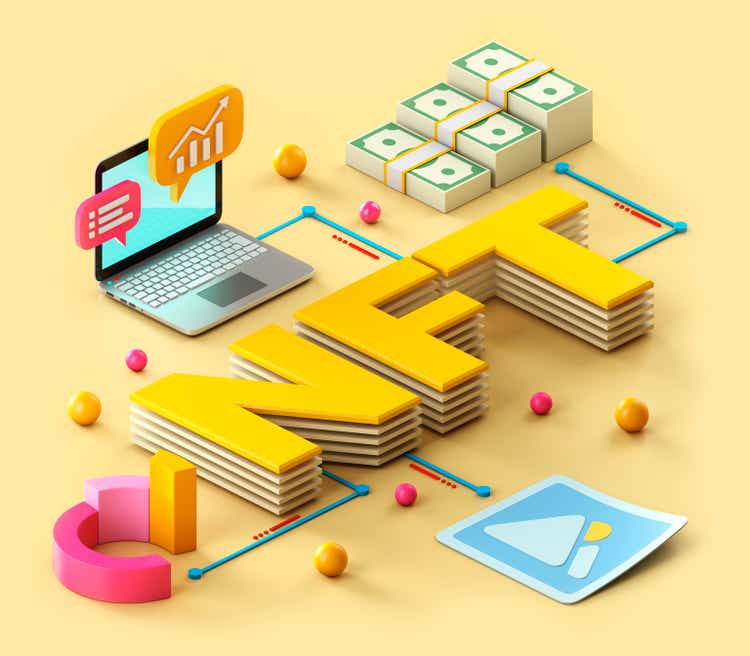 Elevator Pitch
I assign a Hold investment rating to GameStop Corp.'s (NYSE:GME) stock. I have a mixed view of GME's growth prospects in the long run, after considering both the potential of its NFT (Non-Fungible Token) marketplace and the risk of future gaming software sales coming in below expectations. This translates into a Neutral view and Hold rating for GameStop.
GME Stock Key Metrics
Prior to discussing GameStop's new NFT marketplace, I will review GME's most recent financial metrics in this section. GameStop disclosed how the company performed for the first quarter of fiscal 2022 (YE January 31) in a press release issued on June 1, 2022.
In a nutshell, Q1 FY 2022 was a mixed quarter for GME.
On one hand, GME achieved decent sales growth in the most recent quarter.
GameStop's revenue increased by +8% YoY from $1,277 million in Q1 FY 2021 to $1,378 million in Q1 FY 2022. This was a relatively faster pace of topline expansion as compared to GME's +6% YoY sales growth for Q4 FY 2021. GME's first-quarter revenue beat the market's consensus sales projection of $1.32 billion by +5%. In its Q1 FY 2022 financial results media release, GameStop highlighted that "new and expanded brand relationships" were the key driver of its better-than-expected topline growth in the recent quarter.
However, GME also emphasized at its Q1 FY 2022 earnings briefing on June 1, 2022 that "long-term (rather than short-term quarter-to-quarter) revenue growth is a primary metric by which we believe stockholders should assess our execution." It also noted that "pursuing growth opportunities in the cryptocurrency, NFT and Web3 gaming verticals" is a key area of focus for the company. I will touch on GameStop's new NFT marketplace in greater detail in the other sections of the article.
On the other hand, GameStop's gross profit margin for Q1 FY 2022 was below expectations, and GME is likely to remain loss-making for the foreseeable future.
GameStop's gross profit margin contracted by -4.2 percentage points YoY from 25.9% in Q1 FY 2021 to 21.7% in Q1 FY 2022. More significantly, GME's actual Q1 FY 2022 gross margin came in -0.7 percentage points lower than the Wall Street analysts' consensus gross margin forecast as per S&P Capital IQ data.
GME's net loss also widened from -$67 million in the first quarter of fiscal 2021 to -$158 million in the recent quarter. The sell-side analysts expect GameStop to still be unprofitable for the current and subsequent fiscal year. This shouldn't be a surprise, as GME continues to be in investment mode. Apart from investments relating to new verticals like NFTs mentioned above, GameStop also highlighted at its Q1 FY 2022 investor call that it needs to "rebuild and strengthen our commerce business after years of underinvestment."
In the next two sections of the article, I specifically discuss GME's new NFT marketplace.
What Is GameStop's NFT Marketplace?
On July 11, 2022, GameStop revealed in a press release that the "public beta version" of the company's NFT marketplace went live. On its website, GME defines its NFT marketplace as "a platform for discovering, collecting, creating, and trading" NFTs "from creators, communities, and global brands."
GME had made its digital asset wallet known as GameStop Wallet available on the Chrome Web Store since May 2022, which served as a prelude to the launch of its NFT marketplace in the early part of this month. This is because users need to download GameStop Wallet (or use other compatible digital asset wallets) and top it up with Ethereum (ETH-USD), before they can buy NFTs on GME's marketplace.
I focus on the short-term and long-term prospects for GameStop's NFT marketplace in the subsequent section.
How Has The NFT Marketplace Impacted GameStop's Business?
The NFT marketplace is expected to have a positive impact on GameStop in the future.
In the near term, GME's new NFT marketplace has surpassed expectations in the initial phase of its launch.
I previously wrote about Coinbase Global's (COIN) planned NFT marketplace in an earlier article published on January 25, 2022. Notably, GME's NFT marketplace "has done over 5,000 ETH in trading volume and $7.2M in value since its launch" which was roughly +161% higher than "Coinbase Global's all-time NFT volume (1,913 ETH)" according to a July 20, 2022 Seeking Alpha News article which cited data from Coindesk. As a reference, COIN's NFT marketplace was launched much earlier on May 4, 2022.
Nevertheless, it is important to note that the NFT marketplace isn't expected to contribute a meaningful amount of revenue for GME in the short term. Based on a 2.25% marketplace transaction fee, GameStop probably generated fees of around $160,000 in the last few weeks based on the $7.2 million transaction value figure referred to above.
In the long run, the future growth of the NFT marketplace could be substantial.
At the company's Q4 2021 earnings call on March 17, 2022, GameStop emphasized that there is "significant long-term potential in the more than $40 billion market for NFTs." It is very likely that GME was making reference to Chainalysis' analysis which suggested that "$41 billion worth of cryptocurrency was sent to
two types of Ethereum smart contracts associated with NFT marketplaces and collections" in 2021 that was cited in a January 6, 2022 Bloomberg article.
Specifically, GME's previously announced partnership with Immutable X Pty Limited holds a lot of promise. GameStop disclosed earlier on February 3, 2022 that it will work with Immutable X to form a "$100 million fund in Immutable X's IMX tokens" which will be utilized "for grants to creators of non-fungible token ("NFT") content and technology."
As an indication of what GameStop is targeting to achieve with its partnership with Immutable X, it is worth referring to the 8-K filing issued in connection with this announcement. As per GME's February 3, 2022 8-K filing, one of the milestones for the partnership is "a cumulative amount of $3.0 billion in combined Primary Sales and Secondary Market Sales Transactions on Immutable X within twenty-four (24) months."
Immutable is one of the leaders in the Web3 games space, so the partnership should pave the way for the introduction of gaming NFTs on GME's NFT marketplace in time to come, which is expected to be a key long-term growth driver.
Is GameStop's Business Outlook Positive?
Putting NFTs aside, the proposed acquisition of Activision Blizzard, Inc. (ATVI) by Microsoft (MSFT), which is currently going through the process of regulatory approval, is a key factor to consider in assessing the business outlook for GameStop.
GME's legacy and core commerce business could be put under greater pressure, when the deal between MSFT and ATVI (both are suppliers for GameStop) completes. The combined entity will have much greater bargaining power over gaming retailers like GameStop. Separately, it is also possible that certain of Activision's future games might only be released for the Xbox rather than having PC versions as well, which could possibly lead to lower overall sales for GME.
In other words, the business outlook for GameStop is negative, as the company needs to accelerate the pace of revenue diversification by increasing the sales contribution from hardware and accessories, especially in view of changes in the gaming landscape such as the MSFT-ATVI combination. But this will also require GME to sustain a certain level of investments to support its new growth initiatives. This is aligned with the sell-side's consensus financial forecasts (source: S&P Capital IQ) that point to a modest two-year forward revenue CAGR of +5.9% and continued losses for GME in the next two fiscal years.
Is GME Stock A Buy, Sell, Or Hold?
GME stock is a Hold. On the positive side of things, I am encouraged by the initial performance of GameStop's NFT marketplace, and I expect the introduction of gaming NFTs going forward to be a further boost for its marketplace. On the negative side of things, GameStop is expected to continue to generate losses for the foreseeable future, as it invests to diversify its revenue base.